On a night full of fun, food, and most importantly competition, the fourth annual GRACE Poker Tournament was far from disappointing… well maybe to some.
The week of the Poker Tournament was shaping up to be gloomier than usual with the recent winter storm in DFW. Many wondered if the event would be canceled and pushed back to a later date, but CEO Shonda Schaefer and the rest of the GRACE Staff had different plans in mind. After checking road conditions and weather for everyone's safety, Shonda made it official that the Poker tournament would resume as normal.
Special Events Manager, Mary Tejada, and Seasonal Events Coordinator, Beth Chernik, made sure the set up was pleasing to the eye with their festive decorations. From the setup of the tables to the bar top, these wonderful ladies with the help of their team went all out. Their efforts paired w with Park Place Jaguar Land Rover DFW's beautiful showroom floor made for the perfect set up.
As people started arriving, they were greeted with the fresh smell of food from Scratch Catering and Fine Foods. The sliders and bacon wrapped jalapenos were a fan favorite amongst the crowd. After everyone settled down with their food and drink from the bar, Shonda welcomed everyone and introduced all of the amazing sponsors who helped GRACE put on the highly anticipated event. After a quick pre-tournament picture with all of the players, the game was on!
Silence came across the room as the players slipped into deep concentration. As the evening went on, all eyes were on the new, sparkling poker bracelet. Last year's champion, Craig Ayers, had a championship bracelet made as a lucky charm for this year. He explained there would be a fun catch to his purchase, however. Whoever beat him got to steal the bracelet from him and so on until it was on the wrist of the night's victor. A new GRACE Poker Tournament tradition was born. He lasted a considerable amount of time until he lost to Scott Coolbaugh. The bracelet was passed down, and the competition intensified.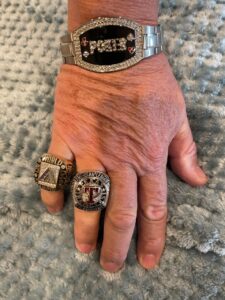 A highlight for the lucky charms and unlucky players in the room was the beginner's table. As the number of players dwindled, a table was opened up for those who wanted to learn or just play a friendly round for fun. This was a great opportunity for people to interact with each and learn the game risk-free. Who knows- one of the people sitting at the beginner's table might just be one of our next champions.
We had a turnout of over 30 players taking their seats at the poker tables with their lucky charms looking on. Many oohs and ahhs filled the room, along with some laughter and cheers from the players. After three hours and much anticipation, we finally we crowned a new champion, Scott Coolbaugh. Some say his victory was attributed to his great skill, while others say is was his lovely lucky charm and wife, Susan Coolbaugh who never left her seat- a superstitious practice that some might start to copy.
Scott Coolbaugh came in first, winning a trip to Las Vegas, airline tickets and a bottle of Columbia Valley Magnum Pedestal. Runner up, Paul Bischler, won a bottle of Tequila Clase Azul Reposado. Roy Choi from Champions Club came in third place and won a 15 year old Macallan, single Malt Scotch whiskey.
We want to thank all of the great sponsors, staff and caterers for all the hard work you did, making this event one of the best GRACE Poker Tournaments yet. The GRACE staff are already planning for next year's Poker Tournament and how we can top it. For more information on the GRACE Poker Tournament or any of GRACE's upcoming events, please contact us at Events@GRACEGrapevine.org or visit our website our at GRACEGrapevine.org