SHOP RESALE
GRACE operates a successful resale program, both in-store and online, that funds a large portion of the annual budget.
SHOP IN-STORE

GRACEful Buys is our upscale resale store whose proceeds benefit those in need through GRACE programs.  
GRACEful Buys carries a variety of high quality items, including clothes and shoes for the family, housewares, home décor, furniture, linens, seasonal, toys, books, jewelry & accessories. All of our merchandise is carefully chosen for quality and is priced below retail. With more than 9000 items received each week, each day is a new shopping experience.
Store Hours:
Mon-Sat 9:30am-6pm
Closed Sunday
Store Website: www.gracefulbuys.com
SHOP ONLINE

GRACEful-e is our online eBay shop. You will find many of the same great quality items there as you'd find in our in-person stores. From brand new to vintage and everything in-between, we have something that fits every need, and 100% of the proceeds benefit GRACE programs as well.
All items are available with "Buy It Now" pricing, and shipping is free for most. Look for GRACEful-e on eBay under eBay Stores—search on "gracefuleonline", or simply use the button below.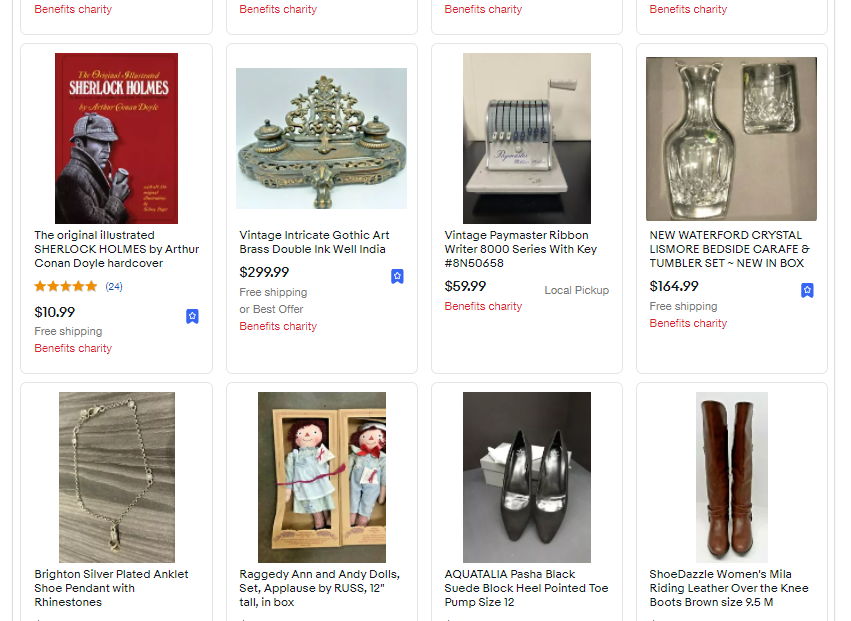 Contact GRACEful-e:
1060 Texan Trail
Grapevine, TX 76051
817-305-4683
Where does the money from resale go?
All the proceeds from GRACEful Buys go back into the GRACE mission to help the clients we serve. GRACE is a faith-based non-profit relief agency that provides food, clothing & other emergency assistance to people who are in need.
Do you take consignment items?
Currently we are only accepting donated items. Many of our donors prefer the tax benefit of donating versus the uncertainty of consignment. In addition, you are helping the community, so it is a win-win!
Will my household or clothing donations go to a client or will it be resold?
All donations are first sorted for client needs, whether they're clothing, household items or linens. Basic client needs are distributed through client services. If a client has a need that is not available at client services, the client is given a voucher to shop at the store to fill this need. However, whether the shirt you donated is actually worn by a client or the shirt is sold and the money goes back into the GRACE mission to help a client, all donations benefit the clients we serve.
Why do prices vary on similar items as they are all donated?
Our pricing depends on the quality and brand of the item. For example, a brand you could buy at Target would be less than a designer label such as Ann Taylor. Our pricing generally runs 60-75% below retail pricing.
Do you have a layaway plan?
Due to limited space and the number of donations that arrive daily, we are not able to accommodate the space needed for layaway.
What is your refund policy?
We want you to be happy with your purchase and become a loyal customer. All sales are final, but if there is an issue with an item you have purchased, please speak with a store manager and we will do our best to make you a happy customer!
How often do you get merchandise?
 New items arrive daily, so shop often.
How can I find out about sale & discount offers?
The easiest way is to sign up for emails or follow us on Facebook or Instagram.   
Do you have a loyalty program?
We do have a Frequent Buyer Card that you can get at the store from one of our team members.
How can I donate items for possible resale?
Donors have several options regarding what, how and where to donate.
At our Donation Station, you may drop off the following items only:
Clothing / Shoes

Jewelry / Accessories

Linens

Home Décor / Lamps / Wall Décor 

Housewares

Toys

Working Electronics

Outdoor / Sporting Equipment 

Books / Music / Movies 

Seasonal
If you're looking to donate furniture, you may take it to our GRACEful Buys store location in Grapevine. If you are unable to deliver your items, click here for pick-up options.
Can I donate furniture?
Absolutely! We take gently used furniture donations at our GRACEful Buys store location in Grapevine (see the address on this page). If you are unable to deliver your items, click here for pick-up options.
When you bring your furniture donations, please pull around to the back of our store, and we will help you unload.
Are there any items that I cannot donate?
Yes. We will NOT be able to accept the following items:
Building materials

Paint or toxic items (biohazard)

Tires (bio hazard)

Encyclopedias, magazines

Broken or badly worn furniture 

Mattresses, as we cannot distribute by law

Computers & monitors

Used appliances 

Car seats & baby cribs due to recalls
Are there other ways to donate to GRACE?
Yes. Please visit our Donate page for more information. To see wish lists for specific programs, please visit our Current Needs page.