In the spirit of spring and starting fresh, several local businesses decided to host events involving cleaning for a cause in honor of GRACE!
To kick things off, ReMax hosted their "Ninja Shredding Event" where attendees were encouraged to bring unwanted papers to shred, as well as household goods and clothing they no longer wanted. Briggs Freeman Sotheby's International had a similar idea and requested people clean out their closets for any unused clothing. All housing and clothing items were then collected and sent straight to Donation Station and our resale stores.
Keller Williams Southlake hosted their "Red Day" event, which stands for Renew, Energize and Donate. For their global day of service, the folks at KW gathered food items to restock the GRACE Food Pantry – a much needed blessing!
Lezlie Frazier with My Personal Dox recently learned about the mission of GRACE and wanted to partner with us as a way to support GRACE programs that serve the community. She and the PersonalDox's team ran a special that gives GRACE 50% of the March sales, and she has offered to run the same special again in January! MyPersonalDox helps individuals and families to securely, centralize and organize important records. You can access the records anytime from anywhere. It also allows family access now or in the future. This subscription makes finding historic documents easier for families and future generations to come. Be sure to use the promo code "GRACE" if this is a service you need!
As we begin to shift into the warm, summer season, our focus shifts to Feed Our Kids. Yellowblue Eco Tech Corporation came across GRACE in their search for a nonprofit in the area whose mission aligned with their own. They saw this need, and all of their employees got together to host a drive specifically for Feed Our Kids. Countless water bottles and packaged snacks were donated to pass along to the hungry kids who will attend the summer portion of the program. The "F4" portion of the foundation's name represents the four pillars of their mission: faith, family, freedom and fun. With this in mind, the Feed Our Kids program seemed like the perfect fit.
After all of the food and drinks had been collected, Bruce Lange, Vice President of the foundation's board, decided that they could still do better. Bruce requested a coworker's hat, blasted fun, upbeat music, and passed around the hat for everyone to make any extra monetary donation they could dig out of their wallets. Amazingly, the group collected $1,300 in those 60 seconds alone!
We cannot thank you any of these groups enough for their incredible generosity. You are the hands of GRACE that make it possible to reach every corner of our community, and your efforts do not go unnoticed!
If you are interested in hosting a third party event for GRACE, please contact our Seasonal Events Coordinator, Beth Chernik, at bchernik@GRACEGrapevine.org. To see specifically where our biggest needs are each month visit our website.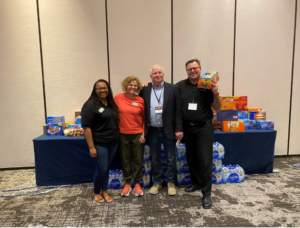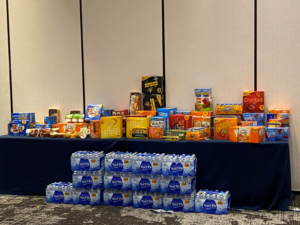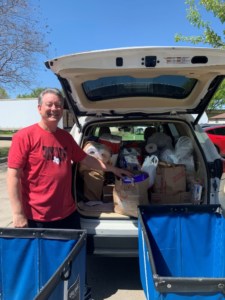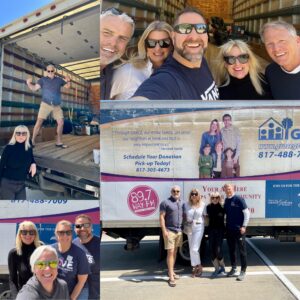 article about yellowblue eco tech/f4, Keller Williams Southlake, ReMax, Briggs Freeman Sotheby's International