The GRACE Transitional Housing program, headed by Martisha Smith and Ravan Anderson, is one of GRACE's most rigorous but rewarding programs. The two-year program gives women a fresh start in life the second they reach our doorstep. By providing a fully furnished home, food in the fridge and pantry and the all resources necessary to get a degree and a job, each client is set up to reach self-sufficiency. This week, Transitional Housing was lucky to welcome two new moms and their kids into the big GRACE family.
One of these families will get to live in the home lovingly decorated by two sisters, Taylor (14) and Brady Burnett (12). Instead of spending money on gifts, Shannon Burnett's oldest daughter came to her with the idea of doing a service project. Her little sister wanted to join shortly after, giving up her birthday presents, too. The girls started the renovation process in November, with their favorite HGTV shows in mind for inspiration. Their mom revealed that the girls are always wanting to redecorate their rooms, so this is their way of getting to do so vicariously through someone else!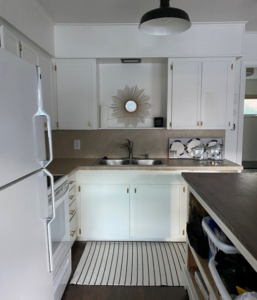 GRACE likes to welcome every new member of this program with a celebration known as the "Home Blessing". This tradition brings together all staff as well as any leaders in the community involved in the decorating process to shower the the new family with love. This comes in the form of home décor, small gifts, and a host of welcomes. Stepping into a GRACE Transitional Housing unit is unlike any other living space, because we offer the support a regular landlord can't give. Each client knows that any one of the GRACE staff is only a phone call away, and we are all cheering in their corner for their success. Families often come to our doors when they are facing instability and unfamiliar situations, and it is our goal to get them back on their feet with renewed confidence.
To learn more about the GRACE Transitional Housing program, visit our website.